Blue Glass Pebble Pool Interior – Emerald
The Blue Glass Pebble Company can make your pool look like a million dollars!
Our fabulous manufacturing process means your pool will shimmer and shine (as only glass can!) for years and years, without fading.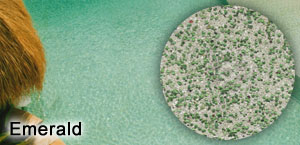 Sunseeker Pools can offer advice in choosing the right pool interior for your location, pool size and its surroundings. For first class quality and service, and superior concrete swimming pool construction, call Sunseeker Pools today on 07 5493 0849, and get the pool you have always dreamed about.